JSON beautifier tools can prove to be the most convenient option for making JavaScript Object Notation an even more user-friendly data format. These web-based applications provide their customers authentic, quality services that too at the cost of nothing.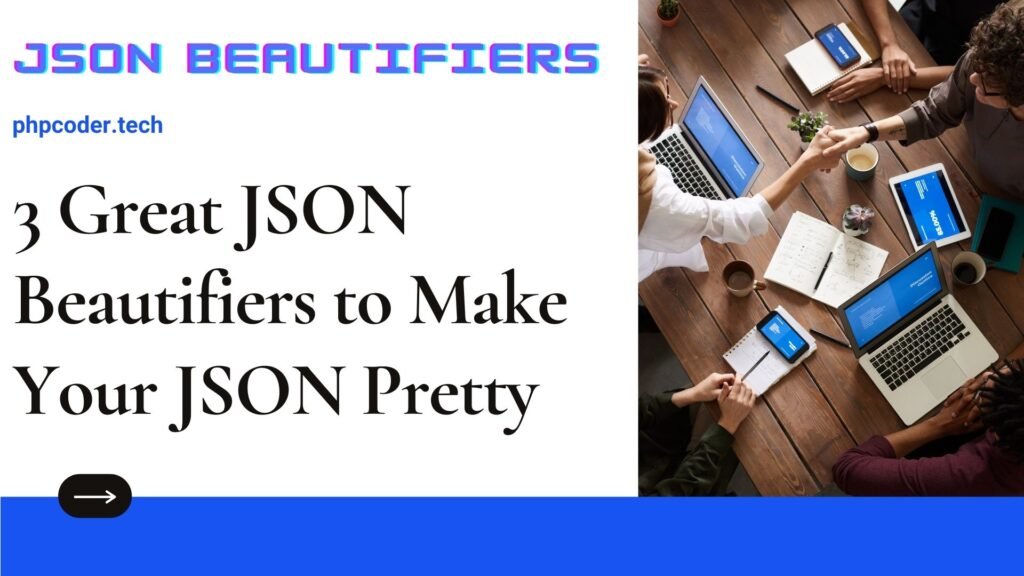 To pretty JSON is not merely done to make it look more appealing than before. But somewhat behind the entire mechanism is the pivotal function of creating a much more sophisticated and accessible format.
3 Ideal JSON Beautifier Application
With so many options available in the market, it does get a little handy when choosing one. There are just so many things to be considered. After you are done contemplating, trust your gut above anything else. But be mindful of characteristics such as reviews, ease of access, functionality, results, etc.
Here are a few options to get you started.
JSONOnline.net
It does not matter if you are using JSON for yourself or doing an assignment for somebody else. The JSON beautifier by JSONOnline.net makes sure that you experience pretty JSON as the most user-friendly interchangeable format that you have ever utilized. This online JSON beautifier provides services as a prettifying tool and beautify JSON code in a pretty manner also it has a bunch of other cool features too. 
Allowing you to verify, interpret, edit, parse and analyze your data with utmost ease. The JSON beautifier utility is pretty sorted and a breeze to go through, attracting several individuals. It aligns your code as a tree viewer in the prettiest way possible.
Code beautify
A quick yet feasible method to easily format and validate your JSON, making it readable. There is an availability to either copy-paste or directly upload your data on the free site. It also provides clients with JSON presented in a tree structure to be collapsed or expanded.
There is no option to minimize data, though, neither is JS type available on this platform. One additional feature is that it converts JSON to CSV and allows you to upload your file directly as a JSON beautifier tool.
JSON Lite
The application is one of the fastest in the competition. Not only does it show the count and size of uploaded items, but it also can handle large files (more than 10MB). It does not allow you to copy-paste your code or upload it from a pre-existing file. But it can access URLs.
There is no search functionality, but it will enable you to format and validate your JSON data free of cast and while showing array index.
What are These 'beautifying' Utilities?
JavaScript Notation is one of the most favored formats in today's market. It has surpassed several of its peers, including the renowned XML. This is primarily because of how easy it is to navigate. You do not need to be the brightest crayon in the box to utilize online JSON beautifier services to make coding a hassle-free job.
Surely there are bound to be some cons of this platform
All of this information might seem too far-fetched for you, an appliance of the Utopian society. But that is not the case; applications that provide JSON beautifier services are credible sources to give you the best JSON experience. One that is based on its laid-back approach towards specifications and composure towards functions.
How do access the applications?
As all of the options available in the range to prettify JSON is web-based, so there is no need to download anything, login into some portal, or sign-up for some subscription. All you need to do is open Chrome, search for JSON beautifier tools, and select one of your choices. It is as simple as that!
Start working RIGHT AWAY
There are no prerequisites, so you can begin working on your JSON. There are several options through which you can insert your code. Either write it up yourself or copy-paste it. Click the go button, and the green signal will transform your cluttered code into an untangled data format.
Waste no time and be satisfied with the results
After the code is analyzed, beautified, parsed, and ready to be used, you can make use of it right away. So JSON beautifier does not make you wait. Instead, it cuts up on all the time you would have initially spent on going through your code more than once.
There are several ways to do it.
You can either copy the code to paste it wherever you want, or you can use the JSON pretty print option to print your JSON right there and then. This will again save more time on your behalf, increase the feasibility of operations and give you more time to focus on other aspects of your tasks.
Final Verdict
JSON beautifier is not only for professionals, neither is it a mere invention for the noobs. Rather, it is a creation for both of them. These applications have such an easily manageable interface that it takes no rocket science to use them. On top of that, the easiness of function does not affect performance at all.
Also Check:
Happy Coding..!
Was this article helpful?